In just one year, Baby English has attracted over 500,000 users. The company has the largest "Mom Community" for young children learning English in China, and has garnered much attention, many accolades, and the support and trust of our learners.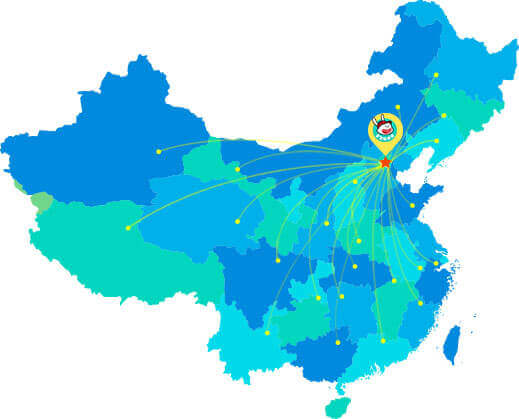 The proportion of users in major cities
Baby English covers almost 500 cities throughout the country. Registered users add up to 500,000, mainly hailing from first and second tier cities, with a small percentage coming out of third and fourth tier cities. The most common users are young mothers.
Team Introduction
Our savvy founders and members of our executive team previously held leadership positions at CEIBS, New Oriental, CCTV, Sohu, Tencent, and Huawai, respectively. Our R&D and product groups are made up of experts formerly employed by various prestigious e-commerce companies. Baby English's product manager has over 10 years' experience. Additionally, we are fortunate to have attracted talented programers and young staff, all of whom are capable of critical, and imaginative, thinking. Our highly qualified community operations team is dedicated to the parent-child interaction element of our work. In short, our company gathers people who share the same dreams and goals, and who always strive for perfection on our deliverables.
Investors
Angel Round: Nov, 2016
Hike Capital is counseling fund founded by two leading entrepreneurs with front-line Internet experience, Mark Yang and Anna Xu.
Series A Round: May, 2017
Affiliated with Matrix Partners, a premier U.S. venture capital firm, Matrix Partners China is one of the most prestigious venture capital firms in China.
Business Cooperation
Currently, we are making all the teaching aids on our own.
With an increase of over 10,000 users per month, we hope to cooperate with international publishing houses, choosing from titles that will suit our
users, purchasing books for each new member, and digital license of the titles to create new online courses.
VIDEO
For books that already have accompanying videos, our hope is that we will be able to utilize them, or create our own.
For books that cannot be made into animation, we'll make a recording of the text, put it together with the pictures, and make a video as a demonstration.
AUDIO
For books that already have audio recordings, our hope is that we will be able to utilize them, or create our own. Our main goal here is to read the text and to demonstrate how to pronounce some difficult words.
PICTURE
In the online courses, apart from teaching parents how to read the text, we normally also instruct them on how to tell kids what's going on in the pictures.